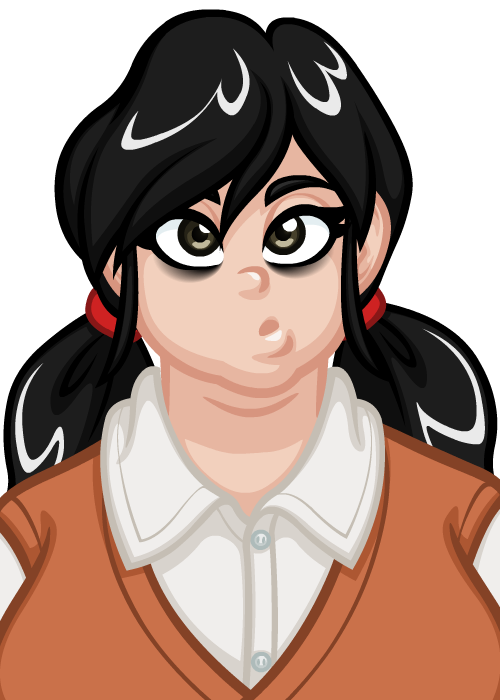 •Full Name:
Lotta Nyqvist
•Age:
25
•Height:
~1.75 meters. (5'9")
•Weight:
~95 kg (209lbs)
•Eye color:
Brown
•Hair color:
Black
•Location:
Lives in a mansion at the outskirts of Granköping.
•Occupation:
Aspiring writer.
•Summary:
The second child of Gustav Nyqvist. Lotta was conceived after Gustav remarried. She received a lot less attention from her father than her half brother, Felix. Being a timid girl who kept mostly to herself, she sailed through her school years pretty much unnoticed. Having trouble making any close friends, her company consisted mostly of books, sweets and food. This, along with a lack of interest in exercise led to her gaining a lot of weight.
Her interest in books has inspired her to become a writer herself. She spends a lot of time researching interesting subjects and thesauruses to improve her skill. Since she stays in her dimly lit room writing, sometimes late into the night, she doesn't get a lot of sun. The bags under her eyes are proof of her determination to become a famous writer. But as of now, all she's doing is writing short stories of various kinds to try to get a good writing style down.
There's a lot of scrapped material lying around in her wastebasket, and she can get pretty frustrated when she writes herself into a corner and can't figure out how to get out of it. She shares her stories online on forums and platforms aimed at writing, but she has yet to gain many fans. The material she is most happy with she attempts to send to various magazines for publishing, but she has had little luck so far. Her shut in nature gives her all of her stories a lack of worldly flair, which makes characters and events seem very mundane and plain. If she ever goes anywhere, she always brings a notepad and pen with her in case inspiration suddenly strikes.
Her most notable contacts in her everyday life comes from people that roam around the mansion. Her half brother Felix, who she is deeply jealous of. His ability to always come out on top and his extravagant lifestyle bothers her to no end, they never get along well. The head maid, Matilda, whom she often asks to order more books and writing material for her. Also, more recently, a catgirl maid, Zu, she found sobbing in the hallway outside of her room one day, seemingly lost in the big mansion. Lotta comforted her and showed her around her room to cheer her up again. Zu was very impressed by the many folders, blocks and papers that were full of text. Since she was showing so much interest, she gave Zu some of her paper that she could draw on and suggested that they could write a picture book together. A work in progress that always seems to change direction due to Zu's often shifting imagination.