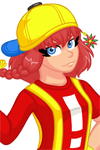 The short statured troublemaker.
•Full Name:
Sofi "Zoo" Wyon
•Theme Song:
Magic That Was Never Used
•Age:
18
•Height:
~1.20 meters. [3'11"]
•Weight:
~40 kg [88 lbs]
•Birthday:
Thursday, 1st April, 1993
•Eye Color:
Light Blue
•Hair Color:
Originally a redhead, but sometimes dyes her hair to a random color.
Sometimes she dyes it multi-colored. She even dyes her tail.
•Favorite set of clothes:
Sofi likes to wear weird and unmatching clothes, but seeing her wearing matched clothing is nothing unusual. One could easily mistake her for a boy if she wore more everyday clothes.
Here's her favorite set:
A yellow cap with a blue screen and a black button on top.
By now, it is very worn out and faded, but it is an important cap to her, almost as if it was a part of herself. She wears it all the time. Very good to hide her ears with.
A big flower earring with a golden bud, red petals and green leafes.
Sofi stole it from a locker room in a bathhouse. She pierced her own ear so she could wear it.
A small yellow ribbon.
Attached to her braid, to keep it from unraveling.
A red sweater.
A very unique sweater. It has a large white exclamation mark on the chest, the left sleeve is short and the right sleeve is long.
A golden bracelet.
Yet another stolen treasure. She wears it on her left arm. On the inside, there's an inscription saying "Jenny". She does not know or care who "Jenny" is, she just really liked the bracelet.
A yellow skirt with suspenders.
It's got a blue stripe with a black zig zag pattern in the middle and a dark green stripe with big light green dots at the bottom, separated by a yellow stripe.
A black stocking with red hearts on her left leg.
She has the right one somewhere as well. She likes them a lot, so in case one breaks, she still have one left.
A white sock on her right leg.
A plain sock. She's got a dosen.
Pink shoes.
Without shoelaces, because she doesn't want to accidently trip when making a quick escape.
A little bell attached to a ring on her tail.
It no longer rings, though. It was gifted to her by Zu as a sign of their friendship. It used to ring back when Zu gave her it originally, however she removed the hammer to stop it ringing as she disliked having something noisy that could attract attention attached to her. The shell is still intact though and Zu didn't seem to notice it no longer ringing.
Orange underwear.
Nothing out of the ordinary, surprisingly.
No bra.
She doesn't need one, for obvious reasons.
•Breast size:
AA50
She's flat as a board.
•Location:
She lives in a two story house that she rents. It's surrounded by traps that'll reveal any unwanted visitors.
•Occupation:
Works as a janitor at a local convenience store. She sometimes skips work when she doesn't feel like working, usually by calling in sick. The owner seems very relaxed about this as she has not been fired yet or even given a warning. She is wary of doing it too much though.
•Personality:
Sofi is a very messed up girl. In her childhood, no one was there for her, so she grew up with the belief that lying, cheating and stealing was the only way to survive. As a result no one trusted her, so she didn't trust anyone else either, and this has followed her whole life. She pushes anyone that wants to come close to her away, the only exception being Zu, Sixten and Ellie, and even then she keeps things hidden from them.
Due to her short height, Sofi has kind of an inferiority complex. She cannot do certain things like driving a car, or reaching high places, and she always has to look up at other people. It makes her feel weak and left out. Therefore, Sofi always tries to stay dominant and loud around friends, so that they will notice her and take her seriously. It is also one of the reasons she wears unmatched clothing. On the other hand, she can use her short height to act like an innocent child and fit into small areas where larger people cannot follow her. This has got her out of a few sticky situations in the past.
Sofi is quite egocentric, as one could imagine. She doesn't care about other people's feelings and always goes her own way. If people can't handle it, tough luck. She hates being told what to do, and might do the opposite if she's in a bad mood. More than often, Sofi only does things if they pay off for her.
She can be violent if provoked, acting much tougher than she really is. She swears at and insults others a lot. Usually if she's been provoked a lot or feels she has been greatly wronged by someone, she seeks revenge in other ways that they may not expect, often by destroying or stealing material things of high personal value to that person. That, or by making a trap for the unsuspecting victim. If she's involved in a fight or what she would consider a life-threatening situation, she might threaten or attack with a knife or other sharp objects.
Her views on romance, boys and sex is very skewed. Most of her knowledge on the subject comes from movies and media, but also from friends. It disgusts her, and she'll look away or try to change the subject if it is brought up in any situation. But it also interests her, even though she doesn't want to admit it. She feels like she's never going to experience anything like that, but she has convinced herself to be proud of that, and her virginity. She's quick to beat down on anyone who tries to make a sexual comment about her, but uses an excessive amount of degrading sexual comments to insult others. She's very insecure when it comes to sex and sexuality.
After a successful theft, Sofi tends to lay low for a while, not wearing anything that sticks out. Of course she wears nothing that could be traced back to her when doing it, but she wants to be on the safe side. She has become an adept thief, and the police are yet to link her to the recent crime wave.
Sofi has kleptomaniac, pyromaniac, voyeuristic and sociopathic tendencies sometimes bordering on the psychopathic. She would likely be diagnosed with some form of "Antisocial personality disorder" and would greatly benefit from a lot more help than she wants or will likely ever accept.
•Interests/hobbies:
She likes to steal things. Sometimes the object isn't the most important part, the challenge and accomplishment of doing it can be much more rewarding to her ego.
Sofi loves blowing things up, the bigger the better. But since explosives and firecrackers are hard to come across, it's not something she can do very often. So most of the times, she just sets things on fire.
She loves tricking, lying, pranking and getting people into trouble, with very little sympathy of what happens to the person afterwards. If she can, she'll watch the events unfold from a distance to get a good laugh.
•Likes:
Sofi likes to be a pain in the ass and provoke people. She's very quick at making snarky comments and comebacks, which can make anybody tire of her presence in just a short amount of time.
Sofi likes to compete, but only if it is something in which she has the advantage. So it's more that she likes to win.
She enjoys watching things get demolished or blown up, like car crashes or buildings getting wrecked. Even better, to demolish something herself. Destruction is awesome.
Sneaking around, climbing things and go where many people wouldn't think to go or look. From there on, she can sit still and spy on people, which is another thing she enjoys. Spying on people and taking notes of their habits to use them against them has almost become a hobby.
•Dislikes:
Getting in contact with any kind of authority. They don't get along very well. Sofi wants to be free to do whatever she wants to. She flaunts rules, regulations, laws and societal expectations as much as she thinks she can get away with it.
Even though she often takes advantage of her short height, she often flies into a rage if anyone so much as mentions her short stature..
She dislikes candy, it tastes funny to her. If she ate one, she'll gag and almost throw up. She likes other junk food, though.
Rain and wind and cold. She's had enough of that already in her short life.
Anything lovey-dovey or emotional. Sofi does not believe in showing other people her inner feelings and emotions. She doesn't like seeing other people expressing them either. It disgusts and annoys her.
She hates to be called by her real name, and will promptly tell anybody that her name is now "Zoo".
•Favorite Food:
Fish. She'll put fish on anything. Oh, and pizza, pizza is good too.
•Favorite Animal:
Fish, the tastiest thing on earth!
•Music Tastes:
Sofi doesn't listen to much music, in fact she hates whatever genre or song that isn't to her liking. Her tastes probably leans toward rock, punk and electronic. Songs with strong anti-establishment undertones or lyrics particularly appeal as well.
•Linguistic Quirk:
Likes to call people and things "hippos".
•Top Kinks:
Absolutely not.
•Important/Dear items:
Her yellow cap.
She is seldom seen without it. It reminds her of old times. It might be worn out and sun-bleached, but it's her favorite hat.
A black laptop.
She stole it from a teacher in her school. Sofi does not have much computer knowledge, and she has no internet connection, so she doesn't use it much. It is only used to play minesweeper, solitaire and similar things installed by the laptop's previous owner.
A portable gaming console.
Another stolen piece from her school. There was a few games in the case when she took it, so she plays them when she's bored.
A camp bed.
A cheap bed she bought, along with a pillow and a cover. It's still pretty damn comfy.
A breakfast TV and some old consoles.
Pretty old stuff, but it works. She has a limited range of games, so she often plays the same games over and over.
A cellphone.
The original owner, an old lady, never locked it, so Sofi can use it for calling and such things. The SIM has not been deactivated and the phone not disabled. The silly old lady is probably still paying for it.
Inlines.
Makes traveling faster and less expensive. A birthday present from Ellie, though she doesn't fancy the protective gear that came with. If she's going anywhere far, she uses them for her own protection and to draw less attention from others.
•Goal in life:
Sofi doesn't really have a goal to aim for, she just wants to spend her every day having fun. She has a childish dream of becoming a master thief one day.
•Relationships:
Sofi never lets anyone get too close to her. She doesn't want anyone finding out what she's like and telling on her. She only fully trusts Zu and Ellie.
Zu:
At first, Sofi thought Zu was a dumb bitch, but she was very surprised when she ignored her coldness and kept pestering her with her happiness and gifts. When she was told about Zu's past with her parents, she found a little connection with her after all. Something that almost felt like pity. They eventually became good friends, and now Zu is the person who Sofi trusts the most. Even though they are good friends, Sofi doesn't care much of Zu's feelings and may tease her if she finds an opportunity and push her around for her own good. That said, Sofi is also the person who has to come up with things to do when they are together, as Zu isn't very original when it comes to doing things. Sofi has found that they have the most fun exploring the woods or other places. She really wishes that she could play some video games with her, but because Zu doesn't understand the point or the controls of the games and cannot link the two things together very well she gave up quickly. Sofi is also a bit jealous of Zu, as her life is turning out pretty well even after all the horrible things she went through, and her own life just doesn't seem to go anywhere.
They have a good relationship. Even so, Sofi likes to bully Zu sometimes for her own amusement, but dials it back when she realises that she could lose Zu if she pushed it too far...
Zara:
Sofi is a little afraid of Zara. They never got along very well, even though they tried in the beginning. Because of this, Sofi doesn't feel particularly bad about stealing from her or making her the victim of some more malicious pranks. She has experienced a furious Zara, something which she does not wish to see again. Sofi never sees Zara alone, as things can quickly turn ugly; Zara has lashed out at her on several occasions. When other people are around, they try to remain civil, although this does not always happen. Sofi doesn't like how Zara is so open and forward about herself and her sexuality.
They do not have a good relationship.
Ellie:
Without Ellie, Sofi would probably be dead by now. She's helped her in many ways, for reasons Sofi doesn't fully understand. Sofi doesn't open up or accept help very easily, but Ellie has managed it and has found out about her past and present problems. She has problems with showing her gratitude, but she shows it through not stealing from or provoking Ellie. Ellie is the person Sofi goes to see if there's absolutely no other solution to her problems.
They have a nice relationship.
Sixten:
Sofi's second close friend as well as teasing victim. She got to know him through Zu, since they became a pair. They get along very well, sharing some interests like video games, outdoor and urban exploration and competitions. Due to his laidback nature, she is free to rake in all the ego boosts she wants. However, Sofi sees him as a pretty weak guy and enjoys scaring or attacking him if she gets the chance to. Despite this he often spends the night at Sofi's place, as it is closer to his job than his own home, and Zu's away during the weeks anyway. Rarely do they argue, and when they do, Sixten is often the one to apologize or smooth things out.
They have a very good relationship.
Hampus:
Sofi can't make up her mind about Hampus. He's straightforward and quick witted, so there's a lot of trash talk and play-fighting going on between them, which Sofi finds fun. Especially if they're doing something competitive, then they can really get going. If she hears he's around, she'll try to meet up with him. But sometimes he makes blatant sexual remarks about her, which she isn't very used to. Usually, she comes up with a witty remark as a comeback, but sometimes she's not sure how to react. It makes her think about her sexuality, something Sofi normally tends to ignore. It fills her with hate, jealousy and confusion. Her skewed look on the subject can put weird, potentially dangerous ideas into her mind.
They have a good relationship, but with a great deal of underlying and possibly dangerous sexual tension.
Parents:
Sofi's dad is named Kim Wyon and is Chinese. He moved to Sweden with his parents at a young age. Her mother was Swedish and was named Hanna Lundgren.
Sofi hates her parents, as they never cared for her when she needed their help. She doesn't know where her dad is now, and her mother is dead. Mentioning her parents to her might upset her.
Needless to say, she does not have a relationship with her parents anymore.
•Skills/Special Abilities:
Is very skilled at stealing and tricking people.
Is quick-witted and can talk and/or sneak away from most situations.
•If You Could Have Three Wishes?:
Wish 1: "I wish I was taller!"
Wish 2: "I wish I had an endless supply of money!"
Wish 3: "I wish for an unlimited amount of wishes!"
•Random & Miscellaneous Facts:
1. If you would want to tease Sofi without insulting her, try teasing her with a tasty fish. Watch out though, she's still very vindictive.
2. Sofi always thinks she's better than you. If she isn't, you either cheated or it's not worth being good at.
3. Sofi sometimes wishes she was a boy instead of a girl. She believes that having a dick means having power and dominance, while a pussy is weak and submissive.
4. Sofi's pretty small, so a normal built man would not be able to get his whole length inside of her.
5. Sofi was supposed to wear overalls, but this was changed into a dress pretty quickly...
6. Sofi's favorite smell is mint.
7. Sofi doesn't like candy, but she enjoys pastries, cookies and cakes.
8. She cuts her own hair, which makes it uneven and rough. She doesn't have the best scissors in the world.
9. Sofi never tells anyone her real name or what happened to her during her childhood. The only exceptions are Ellie, who she has told bits of her background to, as well as Zu, Zara and Sixten, who all know her real name. They do, however, call her Zoo at her request.
10. She is incredibly intelligent and a quick thinker, however she is poorly educated and has limited desire to learn.
11. Sofi's has a limited grasp of English..
12. Her favorite way to insult someone is to call them a hippo, for some reason.
13. Her below average height is most likely due to what they call "Nutritional Short Stature".
•Backstory:
Kim and Hanna Wyon were a poor couple. They barely had any money to their name, and many of their days were spent arguing with each other, sometimes for the most mundane reasons. This only lead to the couple growing more and more selfish. So when they found out Hanna was pregnant, they immediately thought of a way to make a profit off of it, and not abort it.
And so little Sofi Wyon was born. She was born a few weeks early, on the first of april. Her health was a concern when she was shown to be very light and small, not to mention her cat-like features being a complete surprise.
Sadly, however, the baby did not have healing powers as some other cat-like people do.
It was quite the disappointment for the couple, but a baby was better than no baby, so they kept her.
Sofi grew up with constant arguing around her, and as she grew older, she was often asked or bribed to pick sides, often with sweets or promises of toys and such. At a young age she learned how to act and choose to get the best possible outcome for her.
Her parents didn't have any friends with kids, so she was pretty lonely during her childhood. Sure, she met other kids in the playgrounds nearby, but she was often left out, both because she had her cat features and because she was shorter than other kids her age. They started to bully her to the point of making her cry and run home to mommy.
But at home, she didn't get much comfort. Both her mom and dad didn't seem to care that she was sad or upset. They simply told her to go to her room or watch TV. This made Sofi even more sad and she spent many days in her room, refusing to go outside, which ended up with her starting to argue and fight with her parents. This lead to her starting to steal money from her parents, while cleverly putting the blame on her mom or dad, depending on how much she took. Most of the time she didn't get caught.
When Sofi turned 7 and started going to school, she wound up in the same class as the kids who used to bully her around the playground. They hadn't changed a bit and continued their bullying. Instead of becoming sad, Sofi only grew more angry, hateful and most of all, jealous. She started planning ideas for revenge and stole from them whenever she got the chance, both belongings and money. Of course, she was accused of stealing a lot, but her experience of acting innocent and leaving no traces made it impossible to bust her. Some people stopped suspecting her, while others kept blaming her due to her background. She used the money she stole to buy food, sweets or toys.
She managed to steal a Game Boy, which she used to play a lot when she was home. She was not very skilled at it, but it was a way better time waster than her few toys or watching TV. The games made her imagination expand and she considered actually trying out the revenge plans she had come up with during her time in school.
Although very simple, it gave Sofi a great feeling of success and joy at the expense of others. They were very easy traps and pranks, like putting up wires for people to stumble upon or placing containers of water upon doors. Sofi had not felt this great in years and this encouraged her into planning more complex and bigger pranks. She started to become very alert and observant about her surroundings and mentally took notes of what could be used as material or distractions. She was not able to prank too much however, the teachers were on the look for whoever was setting them up.
Sofi often drifted off to daydreaming in class and she never spoke to other kids. She kept to herself and tried to ignore the bullies when they tried to get to her. When she started second grade, none of her classmates paid much attention to her anymore, except for the bullies. She just wished they would leave her alone, but no. Stealing from them was not something she could do very often either without the risk of getting found out, so she couldn't get her revenge very often.
Eventually, she got fed up with the bullies calling her poor, a midget and a freak. Near the end of second grade, on a warm spring day, she snapped. She was outside during lunch break, getting pushed around because her clothes were old and worn out. She suddenly charged into the kid she thought was the most annoying and headbutted him in the stomach, tired of being made fun of all the time. They both fell over on the ground and Sofi grabbed his collar and started to shake him, repeatedly smashing his head into the asphalt while screaming how much she hated him.
The other bullies were too shocked to help their friend out, they didn't expect Sofi to ever fight back. One of them finally came to his senses and ran to get a teacher. When the teacher came running out to stop the fight, Sofi was mercilessly punching the kid in the head and body, letting out her pent up anger at him. The teacher pulled Sofi off of him, but was unable to hold her for long, as she was struggling violently. She got out of the teacher's grip and ran away, only stopping and turning around to tell them again how much she hated all of them, before speeding off, leaving the school grounds.
Her adrenaline was pumping and she felt like she wanted to run away forever. However, she just ran home and shut herself into her room. Her parents were not at home at that time, so she was all alone with her feelings. She threw herself into her bed and felt the tears welling up. She hated being short. She hated having a freaky tail and weird ears. She hated her classmates. She hated her school. She hated her parents. And everyone hated her. What was the point of continuing like this, she thought. She wished she never had been born and that her useless life would end right there and then. Exhausted, she fell asleep.
She was harshly woken up a few hours later by her parents slamming her door open. She knew what was going to happen and she felt unusually calm. Her dad was furious and started yelling at her, demanding to know why she had beat up that kid. She cursed the teachers for not being able to keep their mouths shut inside her head. Sofi tried to defend herself, but her dad didn't listen, neither did her mom. As punishment, she was grounded and was not allowed to watch TV. Luckily, her parents didn't know of the stolen Game Boy she had.
The next day in school, Sofi was forced to apologize to the kid, who had gotten a few bruises, but no serious injuries. She reluctantly faked an apology to the kid and hoped they would leave her alone from now on. But sadly, that was not the case. Now she started getting bullied for punching like a girl too. As they had finally gotten a reaction out of her, they tried to provoke her even more and Sofi fell right into their trap. She got into fights with the bullies a lot during the rest of the term, some more serious than others. She got scolded by her teachers and yelled at and punished by her parents, rather than getting help from anyone.
Sofi was very glad when the summer break finally came. Yet, she felt very heavy-hearted. She hadn't done well in classes and she was still grounded because of all the fighting she had been part of. She was forced to do most of the chores around the house that summer. Rarely was she allowed to go outside. Sofi was not happy with this and the tension between her and her parents grew. Needless to say, they argued a lot more.
That summer was long and boring. She was almost relieved when school started again, but then she remembered what waited for her there. She kept ending up in fights and her grades kept getting worse. She just felt like she didn't belong anywhere. She got the blame for everything and when she tried to reach for help, no one was there for her. Not even pranking and stealing cheered her up as it used to. The school tried to make their consultant talk to both her and the kids that bullied her, but he took the bullies' version of the story as the true one, causing Sofi to get blamed for, and accused of even more things.
Things went on like that until one cold december day, when her father had gotten enough of being called and notified of Sofi's fisticuffs and hullabaloos. He confronted Sofi, yelling at her to stop fighting the other kids and leave them alone. She yelled back at him that she was merely defending herself and that if she didn't, they would beat her to a pulp. But as usual, her father didn't listen to anything she said; he just wanted the constant calling to stop. He grabbed her by the throat and stared at her with furious eyes. Sofi returned the stare, though hers was mostly of surprise and hate.
Spit hit her face, forcing her to close her eyes and look away, as her father growled out that if she didn't start do as she's told and become a disciplined girl, he'd beat her. Sofi quickly yelled back that he didn't dare to do that. In response, he tightened his grip around her throat. She coughed up to let her go, and she was sent flying. She didn't get any time to react before she hit the wall and fell to the floor with a crash, losing her breath. While she was crying and trying to get her breath back, she heard her mother yell to keep it down and be careful to not damage the wall; the landlord might make them pay for it if it broke.
She crawled back into her room and locked her door. She grabbed her only stuffed animal for comfort and cried into it. She started thinking about running away from home, but she soon fell asleep.
Sofi didn't get any christmas presents that year, even though she had avoided getting into any fights after that day. She was very disappointed, but she was not surprised. Her thoughts about running away came back to her. She had no friends, no money, no one to help her. It was wearing her out, mentally.
When she went back to school, she tried to avoid getting involved with other people. She stayed low, trying to ignore the bullies and focus more on schoolwork, but it didn't work at all times though, as she was easily provoked. At least she didn't end up in fights as often. But whenever she did, her father would beat her. She couldn't fight back, which made her take out her anger by fighting with the bullies again, and she was right back where she started. Near the end of the term, she was pretty roughed up, having bruises all over her body, along with a few scars. The summer break was very welcome that year.
Nothing unusual happened during the summer break. She was grounded as usual, but she didn't have anything to do outside anyway. She played the same old games on her Game Boy while the days passed by.
Then something unusual happened. It was a foggy and drizzly saturday near the end of the summer break when a overjoyed roar erupted from the Wyon's living room. Out of curiosity Sofi ran to check out what the fuss was all about. Her mother also came to find out what had made Kim so happy. Apparently, he had won the lottery pot of around 19 million crowns. Hanna and Sofi were also overjoyed, thinking that they would not have to live in poverty anymore. Kim noticed this and jumped towards them triumphantly.
"HA! You think you'll get a share of my money, don't you?!" he shouted at them. "But then you think wrong; I won it, I'm keeping it! I'm a millionaire, I don't need you," he pointed at Hanna and then moved his finger to Sofi. "and especially not you, anymore!". Sofi took a step back.
"What do you mean by that?!" Hanna growled, a second before Sofi could ask that herself.
"I'm going to leave you behind in this shithole and move to China! Or Thailand! Or perhaps America!" He laughed. "You'll never see me again, as you wished for so many times!"
Sofi could see her mother grit her teeth in rage. She herself was still confused as to what was going to happen.
"W-what about me?" she asked carefully. "Can't I go with you?"
"Fuck no!" Kim spat at her. "You're the outcome of our poverty! I don't want to be reminded of this life when I move away!"
Sofi was shocked to hear that, even though she didn't fully understand what he meant. While her mom and dad continued arguing, she went to her room, not sure what to think. She never thought her dad would leave her and her mother behind, even though they argued all the time. To hear that he actually didn't want anything to do with her hit her harder than she thought. Like so many other times, Sofi went to bed early, her mind and heart full of questions, anger and sadness.
When she woke up the next morning, it was unusually quiet. She got out of her bed and walked into the kitchen where her mother sat, eating breakfast in silence.
"Where's dad?" she asked.
"He left." Hanna replied, callously.
"...Where to?"
"Don't know."
"...When is-" Sofi got cut off.
"He's not coming back!! He left us forever, don't you understand?!" Her mother almost yelled at her. She wanted to yell back at her, but for some reason, something was holding her back. Sofi stood in place for a couple of minutes in silence, trying to comprehend the events of today and yesterday.
"I'm going to give you away." Hanna said without warning. At first, Sofi couldn't believe her ears.
"W-what?" she stuttered out. "Give me away?"
"Yes. I won't take care of you by myself." Her mother didn't even look at her. "I'm going to make a phonecall to the Social Services on Monday. You'll end up in a foster home somewhere."
Sofi felt a stinging feeling in her heart. First her dad leaves her and now she's going to be given away? She'd been feeling bad before, but hearing this was just heartbreaking.
"I'M NOT GOING TO A FOSTER HOME!!!" She yelled. "I'm staying here!!" She yelled, trying to hold back her tears.
"Yes, you are, period. You're too troublesome to keep around." Hanna said coldly.
"But-!" Sofi tried.
"Period."
Sofi stormed back to her room. In her anger, she started wrecking her room, hoping someone would notice that she's not feeling well. Her books, ornaments, all thrown at the wall. Her desk, swiped clean like they do in those action movies. She even tore up her bed sheets and some of her clothing.
It wasn't until she dropped the TV that she found nothing else to break. So she stood there, in the middle of the mess she created, screaming as loud as she could, until she ran out of breath.
But, no reaction from her mother. She slumped down on the floor, crying. Entangling herself in the leftover sheet and blankets on the floor, she almost passed out from sheer exhaustion.
Her thoughts dwelled back to running away from home, and she started planning out her escape. She'd take a few of her important belongings, that she had not broken, some food from the fridge, lock the door to her room and escape through the window. She just had to wait until nightfall... The thought alone satisfied her so much, she fell asleep immediately.
When she woke up, it was dark outside. Now or never, she thought. She sneaked out of her room and luckily for her, her mother had already gone to sleep. She grabbed her backpack and collected her belongings just as she planned. She sneaked back into her room and locked the door as quietly as she could. Just as according to her plan, she locked her door, opened a window and threw out her backpack, climbing through and jumping out of it herself.
The rainy weekend had made the air chilly, but it would take more to stop her from running away.
She took off in the direction of the centrum of Granköping and ran for a while before slowing down and catching her breath. When spotting the still busy streets, she kept off the roads and away from populated areas.
After an hour, regret sank in. She felt very uneasy and unfamiliar with the surroundings. Only a reminder of why she was running away gave her strength, so she forced herself to keep going. It took way longer than she expected to walk to the centrum and she was getting tired already. With only a pair of worn out jeans and a sweater, she had no spare clothes to ward off the incessant rain.
The cold was becoming too much, so she decided to look for a place to sleep. She held her backpack over her head as she ran up the street, looking for anywhere to take shelter. As the rain only fell harder, she saw a hammock under a roof, in a garden she ran past. Luck befell her as she reached it, for a couple of blankets were laying on it. She wasted no time and took the blankets to curl up inside of them. It was still cold, but it at least blocked the wind and gave her a chance for rest.
Still cold and shivering, but out of the wind, she thought about what to do next morning. Convincing herself that people would start looking for her, she decided to stick to the shadows. Stealing to get by until she had a better plan. Her head didn't even want to think on housing, as it would be difficult to find a place where should live for free. She wanted to go home, but she didn't want to be placed in the hands of complete strangers.
The sound of a car turning on woke Sofi up. From under her blankets she could hear the slowly subsiding rain. The blankets had kept her a little warm and she really didn't want to leave it, curling up and pulling her tail in between her legs. A rumble from her stomach revealed that she was getting hungry, so she braced herself to meet the cold for a few minutes before opening up her little cocoon of blankets to reach for her bag.
While chewing on some cookies, she looked around, it looked like everyone had left for work, so she made use of this window and started to walk towards her goal again. Not long after, the sun broke through the rainy clouds, helping her navigate her surroundings.
A few hours later she finally entered the more urban parts of the city. The buildings became larger and the people on the street increased in number. Sofi pondered on what she would do now. She had already consumed most of her provisions, so finding something to eat was her first thought. Having some money on her, she could at least afford a hot dog and something to drink before having to beg for money or steal food.
But her money didn't last long. She bought her food at a small kiosk, and now only had a mere few coins left. But for now, her hunger problem was solved and she could start looking into finding a place to hide. Searching around the streets and back alleys, she realized that finding a safe spot to sleep in the centre of the city was a bad idea. She could be mugged or murdered or something, so she decided to head for a less dense area, in the opposite direction from where she came.
As dusk fell upon the city, she desperately needed to find a safe location she could rest at, away from the unfriendly faces that had been spotting her as she traveled. She managed to sneak into a big apartment complex, finding a corner in the stairwell to pat down her jacket as a blanket and her backpack as a pillow.
Wakened by the mailman opening the main door, she jumped up in surprise. She gave the excuse of being locked out of her apartment, and scurried off before he could ask anything else.
The cold outside air made her feel like she was freezing. She collected her thoughts and realized that she couldn't keep doing that. She needed a place where she could remain undisturbed and warm herself up. And in a passing thought, she wondered if people were starting to look for her.
She snatches a paper from a mailbox, but found no notice of her disappearance. She gave it the benefit of the doubt, thinking there are too many papers to look at. Surely she'd be written about. Then someone would find her, send her back home and make her mother realize she wasn't that bad afterall and not send her to a foster home. While walking around, lost in thoughts like these, the cityfolk started to wake up and readying themselves for work or school.
Before long, she noticed that she'd walked into a residential area, which pleased her as she was more used to such areas. Surely she'd manage to sneak into someone's garden and find a shed to hide in. Some protection from the harsh elements.
This continued for a few nights, a process of finding shelter and stealing nourishment, quick and agile just like the cat people often are. One day, she found a row of houses that were ready to be demolished. However, the demolition notices on all the doors were awfully outdated. Perhaps something had come up and people hadn't bothered to look further into it yet? Either way, she deemed it safe enough for her to shack in.
Finally, a place where she could stay. While she no longer had to move around all the time, it was only a temporary location at best, but at least she could practice her pickpocketing and take a little more time to shoplift without being caught. Her small frame was ideal for escaping the few times in which she'd been caught, using her natural flexibility to use hiding spots or take shortcuts a grown adult couldn't.
But the cold weather was creeping up on her, and she still hadn't seen any missing posters about her. Nothing indicating that she was being missed. She felt bad. She smelled bad and hadn't had a satisfying meal for quite a while. With no electricity or running water, all she could do in her safe location was think and think, and with extended thought came regret.
What if she had stayed at home? She'd be in a warm house with a warm bed. Even if she'd been given away, another family would have taken care of her. Maybe even given her new clothes and tasty food! She could have made new friends if she'd moved somewhere with a new school. Instead, a month had passed and she hadn't felt more unwanted than she did now. She wondered why, what she did to deserve this life. On top of that her homesickness had really started to surface, gnawing at her frustrated and sad heart.
But a noise interrupted her thoughts. A burglar? A thief? What's there to steal?
She kept silent and hid in a corner. Loud noises along with laughter and chatty conversation erupted a few rooms away. Teenagers looking to trash something out of boredom, it would appear.
A strange sense of courage inspired her, or maybe it was possessiveness. Either way, temporary home or not, she wouldn't stand for it to be trashed by some kids.
She yelled "No! Don't break my house!" The loud noise startled the teenagers, and quickly they fled.
Paranoid, she spent an hour staying up, waiting in fear for one of them to come back. Eventually she went back to her mattress, remaining vigilant until she passed out.
Sofi woke up to a strong gust of wind. The sun was already shining in through the window. She must've slept for quite a while. It was colder than usual, thanks to the wind. After a short investigation, she found that a window had been broken. By piling up a bunch of furniture, she managed to cover it up. The effort made her body ache for food, so she set out to find something to eat.
When she got out onto the streets she could not help but feel she was being watched. This feeling lingered when she got closer to the commercial area she had grown used to shoplifting from. When she failed to sneak out anything that could satisfy her hunger for long, the feeling lingered even more prominently, no matter where she went. Yet, she couldn't see anybody following her. Growing tired of being chased by ghosts, she returned home, tired and hungry.
The next morning Sofi found a paper held in place by a rock at her front door. Written on the paper was an offer of a full meal at the local burger joint, at 16:00 today. But it didn't say who it was from. This raised alarms in her head as she was very hungry, but also very paranoid. Although she remained sceptical, her hunger persuaded her to go.
Arriving at the burger place, a teen gestured for her to come and sit down at a table, together with his two buddies. Confident that the presence of others at different tables meant she likely would not be hurt, she sat down on the remaining empty chair.
The teens, two boys and one girl, introduced themselves to her. They explained that they had taken and interest in her, since she was so young and living on the streets. They wanted to know her story, and would pay for her meal in exchange.
This was the first time anybody had taken interest in Sofi. The fact that they wanted to listen to her was almost enough to make her spill her life story to these strangers. But the food definitely helped. She agreed to their terms, but demanded to get the food first. She was starving after all.
The food was so good she almost cried. When finished, the teens started to ask about her past. At first she only gave short answers, but it didn't take long before she was telling her life story in detail. She tried her best to hold back her tears when she explained her mother had not even attempted to find her.
The teens pitied her so much that they made offers for her to stay at their places to eat, shower and sleep provided their parents weren't at home. Sofi found it difficult to say no to such an offer, but accepted it only if they promised not to tell anybody about it. The last thing she wanted was to be sent away to a foster home.
For the next few weeks, Sofi cycled through staying at the teens' different homes. It felt nice to sleep in warmth once again, and she could take as many hot showers as she wanted to. The various game consoles the teens owned kept her from being bored when she was left alone during the days. The teens would blame it on growth spurts if their parents complained about missing food.
In the middle of October, she was finally reported missing in the papers. Her mother had driven off the road and crashed into a tree, believed to be under influence of alcohol. When police had informed her family about the matter, Sofi's grandparents had been worried about the deceased's daughter, who was nowhere to be found. The father had left the country alone and hadn't left any ways to contact him in, making the police believe he was not coming back. The grandparents had shared a photo of her, which was now showing in the daily newspapers.
Unlike Sofi, the teenagers had seen this article and reported the police that she was currently living in their homes. When the police came to escort Sofi away, she felt complete and utterly betrayed. Instead of being sent to a foster home, she was taken in by her grandparents. Whilst she didn't like it, she had no reason to be angry at her grandparents. Unlike her parents and other people she'd met, they were actually worried about her. So she stayed with them.
This also meant that she had to go back to school. She had to talk with teachers and the school curator a lot when she came back, but they still didn't seem to understand her problems. Still seeing her as the problem, it didn't help her case when the bullying started all over again mere days after she returned. It was subtle, but she knew it was there and aimed at her. She made great attempts to ignore it, and managed to stay level headed through the rest of the year.
But in the early spring, just about two weeks away from her 11th birthday, she once again had enough. During class, she received bumps and hits and things were thrown at her whenever the teacher was busy and not looking. In an outburst of rage, she flipped her desk forward, grabbed her chair and threw it towards the boy who was the most active against her.
He dodged the chair, but Sofi lunged at him shortly after. They fell on the floor and after a short brawl the teacher intervened. He tried to hold her, but she managed to slip out of his grip and stormed out of the school. Once she had made her way out of the school grounds, she contemplated on where to go.
She didn't want to go back to school again. There was nothing there for her. She didn't have a single friend and she was classified as a problem child. They didn't say it, but she knew. That also meant she couldn't go back to her grandparents. They were nice to her, but they didn't have much connection. At most they'd play board games together or look through old family albums. If she went back they'd just make her go back to school.
Her mind was dark and she felt beaten down. She saw no other way out but to run away and get by on her own again. With the little money she had, she bought provisions in the shape of a few candy bars and a soda. It would have to suffice. She rid her backpack of unnecessary school junk and prepared herself for a long walk.
The first place she thought of going to was the old building she lived in last time. But when she managed to find her way back there, the buildings had finally been torn down. Disappointed, but not defeated, she decided to try to find a place in the city of Granköping, instead of the suburbs. With that in mind, she started walking towards the tall buildings in the distance.
Dark thoughts raced through her mind whilst she walked. She had felt emotionally numb for a long time now. When she was told her mom had died in that accident, she hadn't felt a single thing. It had become difficult to care about anything. Except for wanting to torture the stupid kids at school, she felt no reason as to why she should return and educate herself. She contemplated why she'd been brought into a world where no one wanted her. Why would they expect her to follow their rules when she didn't get anything but hate and doubt in return? If anything, it only lead her to wanting to destroy the world, just like it's been trying to destroy her.
It was at that point she decided she should give herself a new name. She'd create havoc on this world like a bunch of rampaging wild animals. The only thing that could stop that havoc was only herself. Her body was like a zoo, and she was the zookeeper. If anybody was to anger the animals inside of her, she'd let them loose.
"Zoo." she thought. That'll be her name from now on.
It took her three days before she reached the main plaza of Granköping city. It was large and crowded. She didn't mind. Her new objectives were simple. Find a place to sleep in and find something to eat. After a short rest, she set out to get to know the surroundings.
But the big city was very different from the suburbs. Finding a place to live in was much more difficult and she was forced to find new places often. But on the other side, it was a lot easier to find food. Along with the various cafés, stores and supermarkets to steal from, she could also raid several free samples stands when nobody was looking.
While life on the streets was not easy, Sofi managed to get by on her own for over a year. Her thieving skills improved a lot and with her short stature she could easily play the role of an innocent young child and disappear in crowds or behind corners. She learnt that staying in the same place for too long wasn't ideal, so she was often on the move, circulating between places to stay at and steal from.
In the early fall, Sofi developed a nasty cough. Together with a fever and a body that generally felt very wrought, she felt sick like a dog. Unbeknownst to her, she caught pneumonia. She'd been sick before and thought she could simply power through it, but she kept getting worse and worse. After struggling to stay awake and find something to eat, she passed out on the streets.
When she came to, she found herself in a hospital. This is where she met Ellie, a nurse of imposing size, who had cured her of her illness. Ellie was curious about who Sofi was, since the hospital couldn't let a child back out on the streets without knowing there'd be anybody to take care of her. Sofi didn't want to tell her anything, but Ellie's genuine concern about her made her soften up a little and give up her name.
The situation didn't turn much better when Ellie returned after doing some research on her. She had found out Sofi was parentless, homeless and reported missing. This lead into a huge argument of what should be done with her. Ellie strongly argued that she should she go back to live with her grandparents and start school again. Sofi had to open up even more to explain why she wasn't going to let that happen. It was the suggested that she could move into a foster home or with Ellie herself. But Sofi would have none of it.
Ellie compromised that if she let Sofi live by herself in a place she'd rent for her, help her go to a different school AND have her visit Ellie every now and then, she'd agree to let Sofi go. It was something she could get behind. She wasn't sure why this nurse had taken such a liking to her, but a warm and safe place to stay in was something she had truly missed. She didn't care much for the school aspect of the deal, but she figured it could help her pass the boredom.
Sofi accepted the terms. Until all the preparations were made, Ellie made her stay at the hospital. When she finally got to see what her new place looked like, she didn't know whether to be disappointed or amazed. Before her was a slightly run-down two story house. While Ellie gave her a tour of the house she explained that she was able to let Sofi live in there due to the extremely low rent. All Sofi had to do if she wanted to stay was to stay in school.
Ellie accompanied Sofi to her first day on the new school, making sure everything went smoothly. She had to repeat two classes due to her long absence, meaning she started mid 4th grade again. Even though she was around two years older than her new classmates, she was shorter than all of them. She had her doubts about this, but after a few days nobody had made fun of her short height or called her names. It was refreshing to be left alone. Still, she did not really care to make friends with anybody.
After around two weeks, Sofi was invited to Ellie's place. It was a luxurious villa, which made her feel a bit excited to be able to enter it. But before they could do so, Ellie had something important to tell her about her adoptive daughter, Zu. Like Sofi, she had been abandoned by her parents and was suffering the dire consequences of it. She was advised to be careful with her. How could anybody have had it worse than herself, Sofi thought.
Her egocentric view was soon shattered when she actually met the girl. She was unique to say the least. When they entered the villa, the girl had come running towards them, stark naked. Upon seeing Sofi she let out a cry and ran back into the house. Ellie apologized and went to dress the girl while she told Sofi to take a seat in her living room.
When Ellie came back, Zu only peeked at her from behind the nurse. Apparently she was shy as a mouse. Ellie tried to introduce them, but Zu clung to her butt and wouldn't let go. The nurse sighed and told Sofi that she'd start making dinner so that they could get to business soon. And so Sofi was left alone in the living room to watch TV while waiting.
It didn't take long before the shy girl quietly entered the room and sat down on the opposite far end of the couch. She slowly inched her way towards Sofi, who tried her best to ignore her, since she had no idea how to handle this situation. When Zu was almost next to her, Sofi couldn't take it anymore and asked what she wanted. Zu flinched a little but introduced herself and asked what her name was. Sofi was a bit taken aback, because the way she spoke sounded weird. Still, she told her that her name was Zoo. The girl repeated her name and smiled. Her next question was if she wanted to become her friend.
Sofi really wanted to tell her no, but even she could tell that'd be really inappropriate. Reluctantly she answered yes. This seemed to satisfy the girl as she showed a bright smile and started to swing her legs on the couch. None of them said a word until Ellie called that dinner was ready.
After dinner, Sofi and Ellie went to her office to talk. Ellie spilled out all the facts about Zu and what she had been through, as well as what she expected from Sofi if they were going to continue to be on good terms. A bit overwhelmed by all of this, Sofi was sent home to think about it all. To know that Zu had spent more than half of her life locked inside of a basement scared her. She looked so happy despite all of that. She couldn't tell a girl like that to go fuck herself.
The next time she met with Ellie, she was told how happy Zu was to had made friends with her. She really wanted to see her again. Sofi sighed internally, she didn't really much of a choice but to go along with Zu's will.
Over the following months, an odd friendship bloomed. Perhaps it was because they'd both been abandoned and had troubled upbringings giving them a common ground. Zu's bubbly and playful personality made something awaken inside of Sofi as well. Something that wasn't just darkness and insecurity. She dared to play and show her emotions again, albeit only with Zu. But, it still made her uncomfortable whenever Zu would suddenly throw her clothes off. That was something she'd never get used to.
However, she didn't get on as well with Zu's so-called "second mom;" Zara. She was very direct and didn't hold back on pointing out perceived flaws or making her opinion known. Not to mention how open she was with her sexuality, something Sofi did not care for at all. Whenever they met they'd always end up frustrated with each other, with it only growing worse from there. Sofi tries her hardest to minimise contact with Zara, if at all possible.
But even if Sofi now had a home, friends and a school to go to, she was unable to give up her pranking and thieving ways. She still lacked a source of income. Ellie managed to find her a part time job at a convenience store, which seemed to fit her fine. It was easy to snatch things from the shelves or the storage when nobody was looking.
Things went smoothly for Sofi, until Zu managed to get herself into a huge mess. It shocked her to hear what happened to her poor friend. When she visited Zu and Ellie in the hospital and saw what she looked like, the images in her head got worse and worse. It looked like she was dead. Unable to handle all of this, Sofi decided to disappear for a while. She needed some time to process all of this alone.
When she returned almost a month later, Ellie was relieved to see her. Zu had made a full recovery, but Zara had pretty much locked her inside her apartment. While Sofi was unable to see her for a while, Ellie told her about the story that had surfaced after Zu woke up, and was warned to not speak about it to Zu when she got to see her.
In the meantime, Sofi was introduced to the two brothers that had saved Zu, Sixten and Hampus. They were humble and funny, so she had no problem getting along with them. But they were no replacement for Zu. She just wanted to see her again.
Their reunion had to wait a few weeks, since Zara was quite hesitant on letting Sofi in her apartment. But eventually she caved. When she finally got to see Zu again, it was difficult to hold back her tears. She hugged Zu tightly and closely, feeling her heartbeat and breathing as she buried her face in Zu's chest. It was an enormous relief to see her alive and smiling after she last saw her covered with medical equipment. Zu was also more than happy to see her.
However, when things returned back to normal, Sofi felt that Zu's focus wasn't aimed at her anymore, but more towards Sixten. This made her a bit jealous, since it was usually just the two of them. It became even more difficult when Zu started her job far away from Sofi, who was still stuck with school. But in the end, she had to accept that Zu and Sixten had become a pair.
Before she knew it, she graduated from school. With no interest in going to upper secondary school, she instead had to find a stable job, since Ellie was not going to pay her bills for much longer. Of course, Ellie was going to help her out with that as well, but until new opportunities arise, she'll still work at the convenience store.
•Current Life:
When she isn't working, Sofi tends to get bored pretty easily now that Zu is away at her work on the weekdays. So she'll hang out with Sixten instead, since he's in the same kind of situation. During the weekends, she sometimes hangs out with the both of them at the same time. It's something that she wants to avoid, since she starts to feel left out sometimes.
Since she doesn't have the greatest income, she still goes out thieving. Ellie wants her to find a better job, but Sofi doesn't really care for that. If the employment agency happens to find anything for her, she'll go and check it out. But more often than not, the impressions she makes are negative, making it difficult for her to be placed anywhere.
•Phew~!
Sofi is a troubled and troublesome character, so it is difficult to put it all in words! But this should suffice to explain her thoroughly enough! If anything still is unclear, do leave a comment and I'll see if I can answer it.